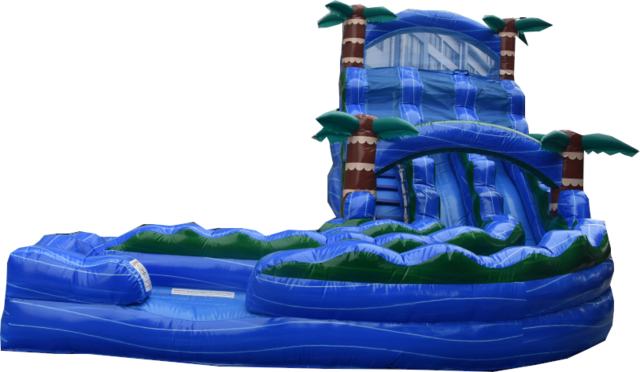 22 Ft. Blue Hurricane curvy Double Lane Water Slide
Actual Size: 31' Length X 21' Width X 22' Height
Setup Area: 37' Length X 26' Width X 25' Height
Outlets: 1
Attendants: 1





$409.99

Free Overnight/40% More for 2nd day



22 Ft. Blue Hurricane curvy Double Lane Water Slide Rental


Introducing our fabulous 22 foot tall double lane water slide rental. We call it the 22 foot Blue Hurricane Curvy water slide. It has two lanes that the participants slide into that are two separate pools. There's no chance whatsoever of people hitting each other because there's a wall in between all the way down. The stop pools holds roughly 2 inches of water, just enough to make a great splash. It also has the seamless slide liners, which means no one can get torn up because there is no Velcro whatsoever. So it really makes for a great water slide and a great user experience when your party goers are playing on the water slide. This waterslide will make any party that you're having a total hit. It's great for corporate events, church events, school events. It's good for any age from three on up.
Safety:OK now for some great safety features as far as the slide goes it is a Blue Hurricane Curvy 22 feet tall so you definitely wanna be very careful while playing on the water slide. Make sure your partygoers and your attendants understand the rules of playing on the 22 foot Blue Hurricane Curvy waterslide. This 22 foot Blue Hurricane Curvy water slide has an age limit of three and up. It also has a weight limit of 200 pounds per person with a limit of three being on the waterslide at one time. That basically means one person can be on the steps and one person can be in each lane sliding down the waterslide. When you check your space to measure to see if it will fit in your backyard or front yard. The width is 25 feet wide, length is 35 feet long, and the height is 26 feet high. That does include your set up area. This water slide comes with a 1-2hp blowe. It has a attached 75 foot extension cord already connected. That is the furthest you can go with an extension cord because the blower would fail if you try to go any further. You do have to have a water hose, we suggest that you leave the water pressure at the lowest pressure possible while the kids or adults are playing on the waterslide. Please enjoy the 22 foot Blue Hurricane Curvy double lane waterslide and keep safety in mind.
Specifications
Size (Length x Width x Height)

31'L x 21'W x 22' H

Age limits

3-17

Max weight capacity (per person)
Minimum height

200 lbs.
34 inches

No Cement set ups allowed

Overnight rentals allowed

Pool type- 3 inch deep pool
Hoses required - 2
Outlets- 1 blowers (separate circuit)