About to Bounce Inflatable Bounce House & Water Slide Rentals in New Orleans gives Free Overnight on all Rentals
Free Delivery to Select Locations!

That's just part of the deal when you're one of our New Orleans and surrounding area customers. That's what folks have come to expect from About To Bounce; great inflatable water slides and bounce houses, cool party equipment & games, and service you can trust. Check out complete delivery information on our service area page.

Get Details Now!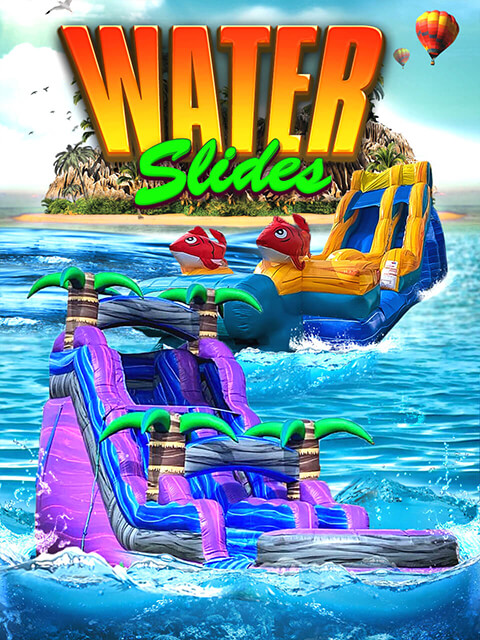 Inflatable Water Slide Rentals

About to Bounce Inflatable rentals will help Beat the heat of the sizzling summer with our water slides and water slide combos. A LARGE selection of water slide rentals and water slide combo rentals. These water slides will give you a blast of fun and cold water that is just the way to cool down. You'll also find themes you can add to the water slide combos that will be perfect for your party. At About to bounce inflatable rentals we guarantee that your water slide and bounce house combo rental will be great for your occasion. Our Water slides and water slide combos are sanitized and cleaned after each rental. We LOVE helping our customers all over the metro New Orleans area with there birthday party or event needs. Our inflatable water slides and water slide combos start at $199 and go up to 699.99 per rentals. The rental includes free delivery and set up. If you're looking for the greatest water slides and water slides combos near you. Please checkout About to Bounce inflatable rentals.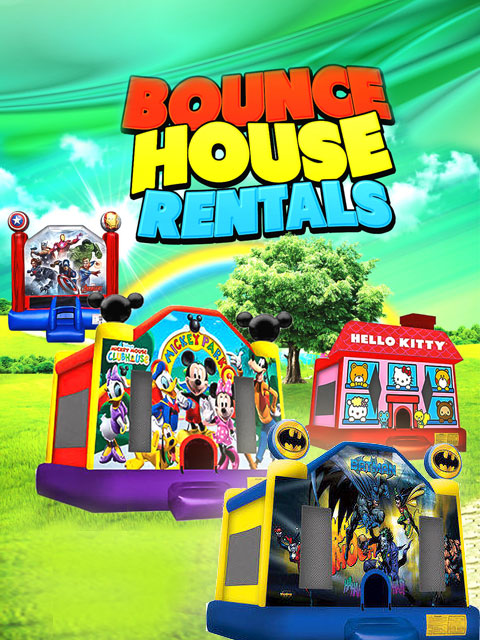 Inflatable Bounce House Rentals
About to Bounce has the largest selection of inflatable bounce house rentals in the New Orleans area. We have over 500 themed bounce houses to choose from! About to Bounce even has module castle bouncers (regular bounce houses) and moonwalks (bounce house with a basketball goal) which are banner compatible which means any theme of your choice can be attached to the front of the inflatable. About to Bounce has everyone's favorite characters from Disney, Disney Junior, Pixar and Marvel. With over 500 different themes to choose from, renting a bounce house has never been easier! Can't find your theme? Contact us, we are constantly updating our inventory. Most importantly, all inflatables are cleaned, sanitized and inspected after each use.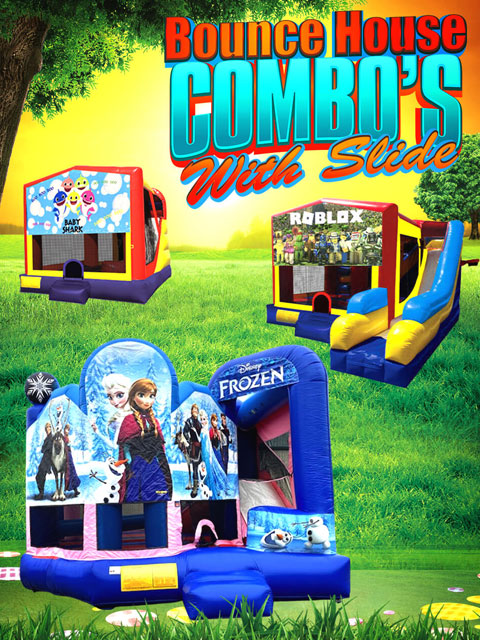 Inflatable Bounce House Combo's with slide Rental
About to Bounce has over a 100 different graphic banners for you to choose from in customizing your bounce house combo. These are brightly colored, with crisp, clear images of all your favorite movie and cartoon characters. Dazzle your Minnie Mouse, Mickey Mouse, Disney Frozen, Spiderman, Avengers, Dinosaurs, Paw Patrol, Batman, Superman, Ice Age!

About to Bounce rents the following great combos:
-3in1 combo- Bounce area, Slide, Basketball goal, steps
-4in1 combo-Bounce area, Slide, Basketball goal, steps
-5in1 combo- Bounce area, Slide, Basketball goal, vertical and horizontal obstacles, steps
-7in1 combo- Bounce area, Slide, Basketball goal (inside and outside), vertical and horizontal obstacles, steps
-Double lane slide with bounce house and basketball goal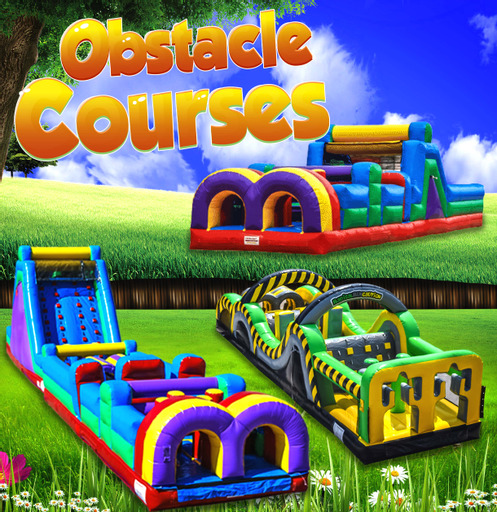 Obstacle Course Rentals
An obstacle course rental in New Orleans from About To Bounce inflatable rentals will provide a Awesome and Colorful centerpiece for all types of events, both indoor and outdoor. It's also the perfect way to draw in guests of any age to start the party and get the competitive juices going for the crowd. Let's remember friendly competition never hurt anyone. So start climbing, sliding, crawling, running, and most importantly, having Fun in one of our obstacle courses. Give your partygoers a great experience that they will remember for a long time.

Obstacle course rentals that About to Bounce rents and may be available for your birthday party, school event, church social in New Orleans, LA,

30 foot Obstacle Course
40 foot Obstacle Course
Adrenaline rush jr. obstacle course
Radical Run obstacle course that can go from 30 feet to 105 feet long
5 color obstacle course that also can go from 30 feet to 105 feet long.

About to Bounce inflatables cleans its obstacle courses after every rental. We take great pride in having the cleanest newest obstacle courses.
Rent Obstacle Courses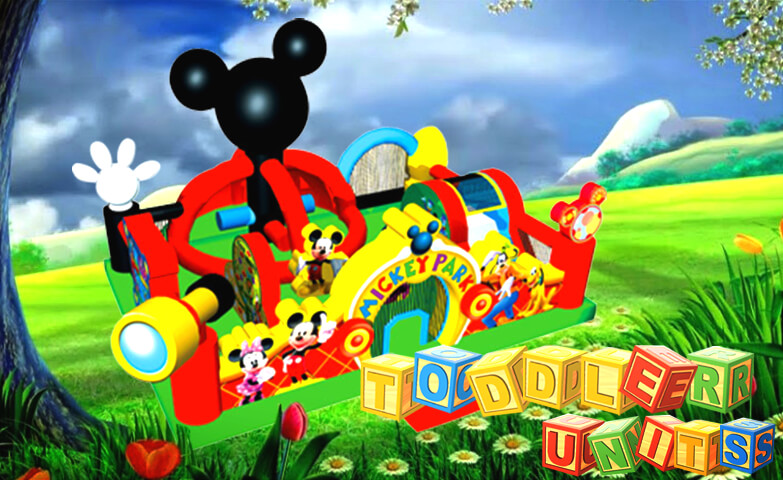 Toddler inflatable Rentals
About to Bounce has a complete line of toddler inflatable rentals design specifically with your smallest guests in mind. These charming rental units have the latest safety features that parents love, along with themes like Mickey Mouse, Animal Kingdom and a Disney princess palace. See them all here! About to bounce inflatable rentals offers a great selection of inflatable toddler bouncer units. These unique bouncers and courses are specifically designed with your smallest guest in mind.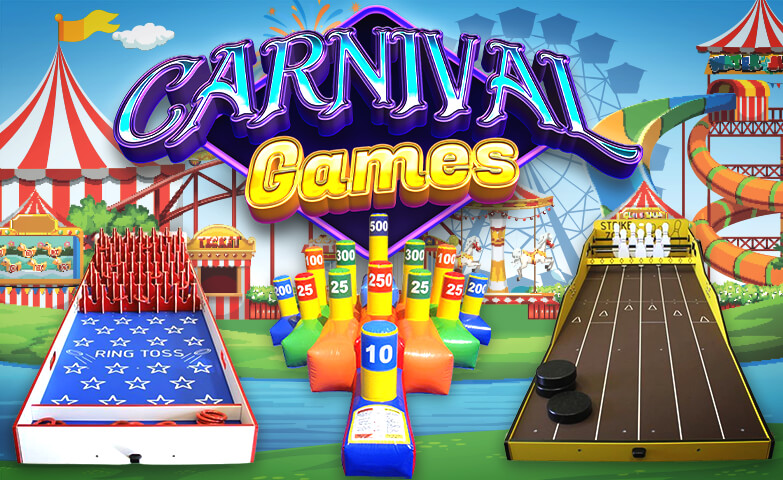 Carnival Game Rentals
About to Bounce inflatable rentals also rents Carnival games that can make any school or church festival complete. It can be Plinko or just a simple Corn Hole game. We have Skee Ball, Ring Toss, Connect Four, Giant Jenga, and so many more.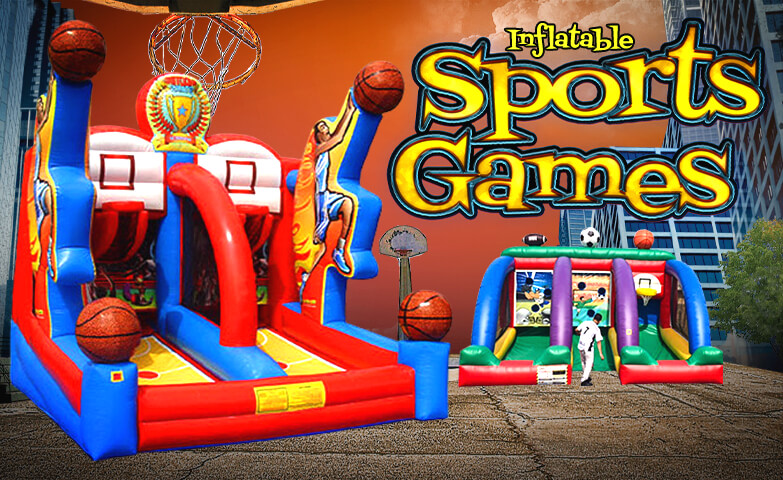 Inflatable Sports Game Rentals
About to Bounce inflatable rentals has the best selection of inflatable Sports games in New Orleans. We rent basketball shooting games, Football Toss, Tee Ball, Slam Jam basketball, Soccer Dart game.

Rent Toxic Meltdown
OMG! Check out the Meltdown! The Meltdown Inflatable Ride will turn your party into an adrenaline-fueled competitors battle as your guests jump and bound around an arena straight out of your wildest imagination. Two robust, swiveling arms will spin and try to knock the 8 players down. If you fall off the pedestal, you lose. If you are daft, dive, duck and dodge, you will emerge victorious. The inflatable arena is safe, and comes with an About to Bounce attendant that will operate the game. Imagine the excitement of the crowd as your 8 contestants battle the might of the swinging arms to stay upright and avoid getting knocked off their pedestals.

Rent Mechanical Bull
Mechanical Bull Rental-Giddy yup, partners! You know you have heard the roar of the crowd before. Whether you've been there in person, seen it on television, or heard the story of a wild rodeo, riding the bull and holding on is your heart races is a thrill unlike any other. That's why About to Bounce can bring a one-of-a-kind Mechanical Bull Rental to your party. Whether you're having a fundraiser, company party, Wild West-themed birthday party, or other special event, nothing will get the crowd going like the Mechanical Bull Rental. The "bull" is a fun ride for all ages, and comes with his own inflatable safety area and cowboy to make sure everything is safe. The "bull" is lightweight and can fit in any party setting.

Rent Rock Climbing Wall
Are you ready to take your party to new heights? About to Bounce Inflatable Bounce House and Inflatable Water slide Rentals has the perfect piece to satiate even your most adventurous guests: The Rock Climbing Wall. The Rock Climbing Wall combines everything your kids will love about kinetic wellness with the spirit of competition and the thrill of heights for your party. Four climbing points and safety harnesses are used by climbers to scale the side of the Rock Climbing Wall. Indentations and ledges along the way empower climbers to find their own footing as they use their strength to pull themselves up. With the harnesses providing safety, and the designated climbing points leading the way, it's a race to the finish! Book your Rock Climbing Wall for a two hour rental or more, today!