All rentals are overnight for FREE

Inflatable Bounce House and inflatable Water Slide Rentals in New Orleans
About to Bounce Inflatable water slide and inflatable bounce house rentals services the New Orleans area. About to Bounce has the largest selection of inflatable bounce houses, 4 in 1 combos, 5 in1 combos 7 in 1 combos, inflatable water slides, obstacle courses, interactives, sports games, carnival games, tables and chairs and concessions. About to Bounce inflatables delivers for free to New Orleans, Metairie, Kenner, Harahan, River Ridge, Destrehan, St. Rose, Marrero, Gretna, Harvey, Belle Chasse, Luling, Terrytown, Chalmette, Violet, Arabi, Norco, Ama, Boutte, Paradis, Algiers, Westwego, Avondale, Des Allemands and many more. Check our delivery map.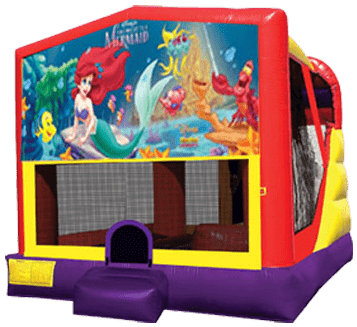 Choose From Over a Hundred Themes
A2B has over a 100 different graphic banners for you to choose from in customizing your bounce house or combo bouncer rental. These are brightly colored, with crisp, clear images of all your favorite movie and cartoon characters. Dazzle your Little Mermaid fans with Ariel and her undersea friends. Or choose from characters like Dora the Explorer, Batman, Superman, and the cast from Ice Age!
Just select the type of bounce house or combo bouncer that fits your needs and then browse through our amazing cast of characters and get ready to make your someone very happy!
Don't be Misled...
It's important that you know that About To Bounce is the only event rental provider that is fully licensed and insured, and a member in good standing with
- LUBA Worker's Comp Casualty Insurance Company
- National Association of Amusement Ride Safety
- Safe Inflatable Operators Training Organization
At A2B Safety is The #1 Priority!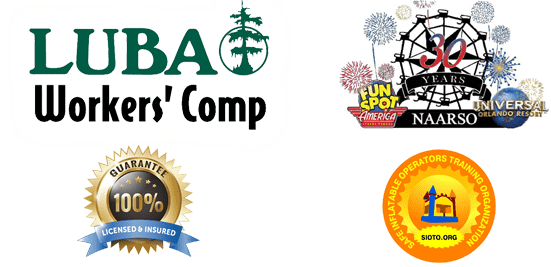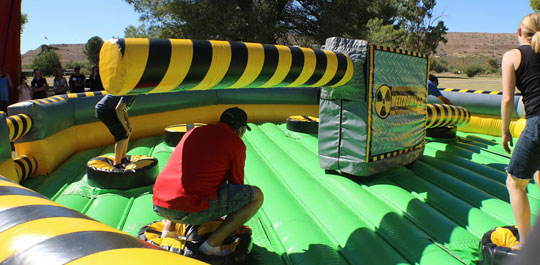 Toxic Meltdown
OMG! Check out the Meltdown! The Meltdown Inflatable Ride will turn your party into an adrenaline-fueled competitors battle as your guests jump and bound around an arena straight out of your wildest imagination. Two robust, swiveling arms will spin and try to knock the 8 players down. If you fall off the pedestal, you lose. If you are daft, dive, duck and dodge, you will emerge victorious. The inflatable arena is safe, and comes with an About to Bounce attendant that will operate the game. Imagine the excitement of the crowd as your 8 contestants battle the might of the swinging arms to stay upright and avoid getting knocked off their pedestals.
Get Details Now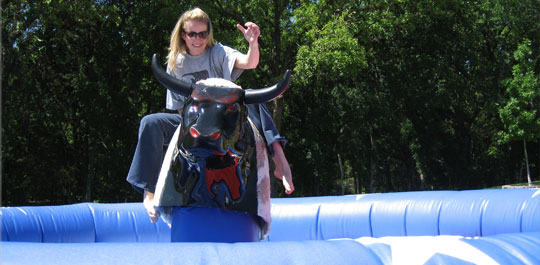 Mechanical Bull
Mechanical Bull Rental-Giddy yup, partners! You know you have heard the roar of the crowd before. Whether you've been there in person, seen it on television, or heard the story of a wild rodeo, riding the bull and holding on is your heart races is a thrill unlike any other. That's why About to Bounce can bring a one-of-a-kind Mechanical Bull Rental to your party. Whether you're having a fundraiser, company party, Wild West-themed birthday party, or other special event, nothing will get the crowd going like the Mechanical Bull Rental. The "bull" is a fun ride for all ages, and comes with his own inflatable safety area and cowboy to make sure everything is safe. The "bull" is lightweight and can fit in any party setting.
Get Details Now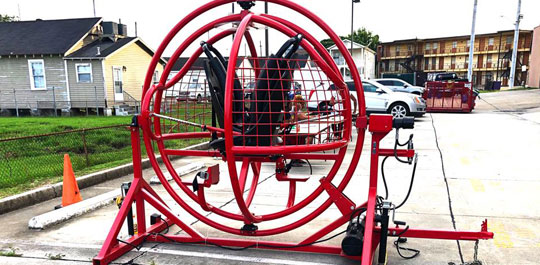 Human Gyroscope
Is your party in need of some high-action fun? Do you want to take your party goers to new heights? About to Bounce Inflatable Bounce House and Inflatable Water slide Rentals has the perfect solution for your guests that feel the need for speed: The Gyroscope Orbitron Rental. The Gyroscope Orbitron Rental secures two of your guests safely into two harness-equipped seats, and then the real fun launches into action. The Gyroscope begins a slow spin, turning faster and faster as the rider goes on.
Get Details Now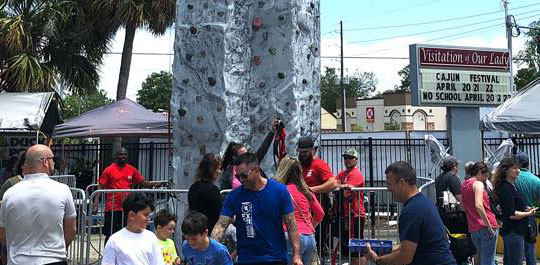 Rock Climbing Wall
Are you ready to take your party to new heights? About to Bounce Inflatable Bounce House and Inflatable Water slide Rentals has the perfect piece to satiate even your most adventurous guests: The Rock Climbing Wall. The Rock Climbing Wall combines everything your kids will love about kinetic wellness with the spirit of competition and the thrill of heights for your party. Four climbing points and safety harnesses are used by climbers to scale the side of the Rock Climbing Wall. Indentations and ledges along the way empower climbers to find their own footing as they use their strength to pull themselves up. With the harnesses providing safety, and the designated climbing points leading the way, it's a race to the finish! Book your Rock Climbing Wall for a two hour rental or more, today!
Get Details Now