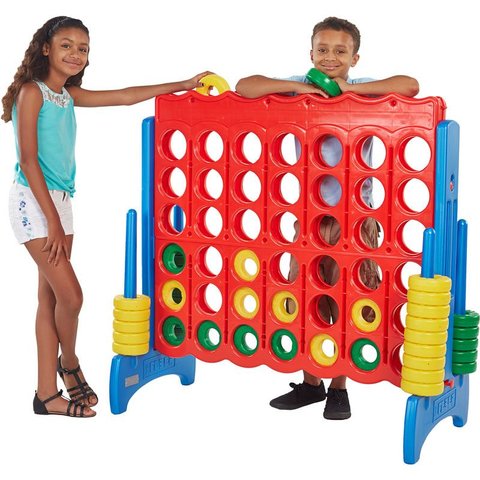 Connect 4 Game




$64.99

Free Overnight/40% More for 2nd day



Connect 4 Game Rental
It's everyone's favorite table top game, Connect 4! This colorful 4 ft high jumbo connect 4 game is fun for any age group which makes family competion even more entertaining. The purpose of the game is very simple and easy to play. Each player or team has a designated color (yellow or green) they will then use the colored disks to get 4 in a row and win the game! Quickly start a new game by pulling the two red strips at the bottom of the game which allows of the colored disks to fall. This exciting giant classic game is perfect for birthday parties, graduation parties, college events, barbeques, prom fest, school fairs or even game nights!

Connect 4 Game Specifications:
Features
- Connect 4 game
- 20 game disks (10 green and 10 yellow)
Safety Rules
- Adults should always be supervising the kids when they are playing with the game
- Please limit one player at a time

Set up
- All of our carnival games are designed to fit on the top of 6ft tables. We recommend renting a table with game rentals.

Rental Requirements
- All carnival games are considered add on items
- Add on items must be rented with an inflatable OR meet the minimum order requirements of $120

Overnight Rentals
- Overnight rentals are allowed as long as our equipment can be locked up when it is not being used

Power
- Does not require power
About to Bounce Delivery Areas:
About to Bounce offers free delivery to the greater New Orleans, Louisiana area. Communities like Algiers, Ama, Arabi, Avondale, Belle Chasse, Boutte, Chalmette, Des Allemands, Destrahan, Gretna, Hahnville, Harahan, Harvey, Jefferson, Kenner, Luling, Marrero, Meraux, Metairie, New Orleans, Norco, Paradis, River Ridge, St. Rose, Terrytown, Violet, Waggaman, and Westwego all enjoy our free delivery service. Parks are an extra fee.