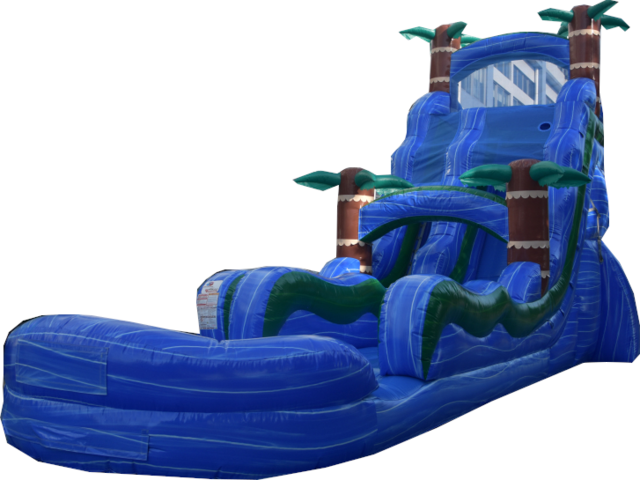 22 Ft. Blue Hurricane Double lane water slide
Actual Size: 37' length x 17' width x 22' height
Setup Area: 44' length x 23' width x 25' height
Outlets: 2
Attendants: 1







$409.99

Free Overnight/40% More for 2nd day





22 Ft. Blue Hurricane Double lane water slide
Have you ever wanted to ride a large wave water slide? Then this is the water slide of your dreams. This waterslide stands 22 feet tall with 2 large lanes you can slide down all day at your party or your event and have one of the greatest times you've ever had. This water slide rental has a stop pool at the bottom for each rider to go down into safely. It is 2 separate pools. It will holds just enough water to have a great splash affect when the riders go into the pools. It's kind of scary how tall this water slide is. You're gonna have to watch the kids and make sure they don't get out of control on this Great water slide. The greatest part of this water slide is, there is no chance in the world that you're going to get scratched up by Velcro. This is our new seamless slide liner that has no Velcro on it whatsoever. So when the kids and the party goers and everyone else goes down it it's like paradise, No scratches, No bumps, No bruises and No rashes. Going up this water slide is a breeze with the extra large steps and the handrails on the sides that makes it so easy to get up this waterslide. So when you want to rent a waterslide in New Orleans area call About To Bounce inflatable rentals. We have the greatest and the best selection of water slides that any company can offer. Whether it's an adult party or kids party this is a great 22 ft.water slide to make your party the talk of the town.
On the 22 foot Blue Hurricane double Lane water slide it's very important to keep safety in mind. Your partygoers can enjoy and have a great time keeping a few rules in mind. Always make sure it's only one person going down each slide at a time. This slide has a weight limit of 200 pounds per person and a maximum of three people being on the slide at a time. That means one person walking up the slide and one person in each lane getting ready to slide. The pool at the end holds approximately 2 inches of water and really should not go any deeper than that. This slide requires one blower, a 2 hp. We can run the electricity up to 75 feet to the nearest outlet . This slide is good for ages three to adults. The set up area for this slide is 43 ft. in length by 22 ft. in width by 26 ft. in height. You will need to have a water hose available for this slide to operate. The water should be kept on the lowest pressure possible the whole time the slide is in use . Please enjoy the slide and keep safety in mind.
Specifications
Size (Length x Width x Height)

38 length x 17' wide x 22' height

Age limits

3-18

Max weight capacity (per person)
Minimum height

175 lbs.
34 inches

Cement set ups allowed

Yes

Overnight rentals allowed

Yes

Pool type- Pool area is designed to hold 3 inches of water.
Outlets- 2 blowers (separate circuit)
Hoses required - 1
Outlets- 1 blowers (separate circuit)