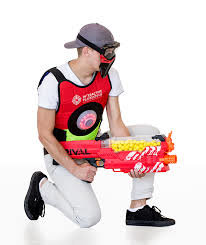 IPS Light Vest Game




$624.99

Free Overnight/40% More for 2nd day



IPS Light Vest Game

Our IPS Sports Arena is one of many Interactive Play Systems that we have at About to Bounce Inflatables. This interactive light vest game combines several attributes to obtain more points than the team you're playing against. The vests have an integrated HIT target holder which will turn red once hit by your opponent. Each team is assigned a color which the IPS System will keep score by a point system and the winning team will be displayed and announced on the digital score board. This interactive light vest game is perfect for any large or small church, school, corporate or private event.

IPS Light Vest Game Specifications:
Features
- Six (6) Rival Nerf guns with bullets
- Six (6) Youth light vests
- Digital score board
Safety Rules
- Adults should always be supervising the kids when they are playing with the system
- Please limit 4 to 6 kids playing at a time
- No jewelery or sharp objects
- No rough play (including wrestling)
- Minimum height is 48 inches
- Never play when it's raining
Overnights
- Overnight rentals are NOT allowed
Concrete
- Cement set ups are allowed. We cannot set up on rocks or gravel or uneven cement.
Power
- One (1) Blower (requires a separate outlet)
About to Bounce Delivery Areas:
About to Bounce offers free delivery to the greater New Orleans, Louisiana area. Communities like Algiers, Ama, Arabi, Avondale, Belle Chasse, Boutte, Chalmette, Des Allemands, Destrahan, Gretna, Hahnville, Harahan, Harvey, Jefferson, Kenner, Luling, Marrero, Meraux, Metairie, New Orleans, Norco, Paradis, River Ridge, St. Rose, Terrytown, Violet, Waggaman, and Westwego all enjoy our free delivery service. Parks are an extra fee.