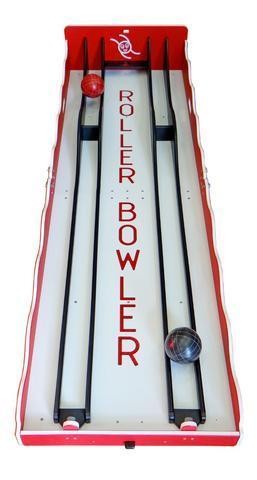 Roller Bowler Carnival Game Rental




$49.99

Free Overnight/40% More for 2nd day



Roller Bowler Carnival Game
It's the strategic carnival game that kids of all ages love to play, Roller Bowler game! Players must roll the ball hard enough to pass the first hill but soft enough to prevent the ball from rolling all the way back! Try to complete the task before your opponent does! This strategic carnival game may seem easy but don't let it fool you! Are you willing to take on the roller bowler challenge? Whether it's a birthday party, church celebration, school festival or corporate event, our Roller Bowler carnival game is perfect for any occasion!
Roller Bowler Carnival Game Specifications:
Features
- Roller bowler game (table NOT included)
- Two (2) bowler balls
Safety Rules
- Adults should always be supervising the kids when they are playing with the game
- Please limit one player at a time

Set up
- All of our carnival games are designed to fit on the top of 6ft tables. We recommend renting a table with game rentals.

Rental Requirements
- All carnival games are considered add on items
- Add on items must be rented with an inflatable OR meet the minimum order requirements of $120

Overnight Rentals
- Overnight rentals are allowed as long as our equipment can be locked up when it is not being used

Power
- Does not require power
About to Bounce Delivery Areas:
About to Bounce offers free delivery to the greater New Orleans, Louisiana area. Communities like Algiers, Ama, Arabi, Avondale, Belle Chasse, Boutte, Chalmette, Des Allemands, Destrahan, Gretna, Hahnville, Harahan, Harvey, Jefferson, Kenner, Luling, Marrero, Meraux, Metairie, New Orleans, Norco, Paradis, River Ridge, St. Rose, Terrytown, Violet, Waggaman, and Westwego all enjoy our free delivery service. Parks are an extra fee.
https://youtube.com/shorts/VXxGfEovt04?si=oIXioIgMFEbpxlPz